Do you ever think that life could be easier without a dog, cat or pig under your feet? Have you ever wondered if there are other storage options for Wilbur's implements? I have! After building our first house in Carlton and putting in an outdoor, spigot mixer for warm winter bathes, I knew life could be better for everyone if they just had some help with ideas. Below are some easy remedies for helping you organize and meliorate your daily life.  
This type of pocket gate glides into place, creating an attractive barrier that blends well with the surrounding décor. I like that the gate can easily be stored out of sight when not in use.  With the glass panel, your pet never looses sight of you.
This fenced-in dog area can be placed anywhere in the home.  It is a creative twist from the traditional dog gate. I like that the space can be moved from room-to-room if needed to keep your pet close.
This Pet Pantry is amazingly wonderful for organization and storage of your pets' accoutrements. With its shallow depth, the cabinet makes good use of space. It can be placed virtually anywhere you need. 
By Two Dog Tales
This is a great way to store pet food and pet dishes in kitchens or utility rooms whether your space is limited or not.  It is highly functional and keeps the floor clear of bowl your guests would otherwise trip over.  
By Wood Mode Fine Custom Cabinetry or any custom cabinet shop
This ingenious pet door is located under a set of cabinets to keep the entry ways clear for through traffic. I adore the seamless integrated into the room's layout. 
By designer Rachel Halvorson
This easy plumbing addition creates a pet drinking fountain that eliminates spillage from water bowls.   This unit is built into a small alcove for the faucet and basin which also conserved floor space.   
This might be a little bit too over the top for some, but these lower windows have two fantastic benefits. 1.) Light with privacy   2.) They give an animal the opportunity to see outside thereby reducing the creatures anxiety over what they can hear and not see. They're brilliant!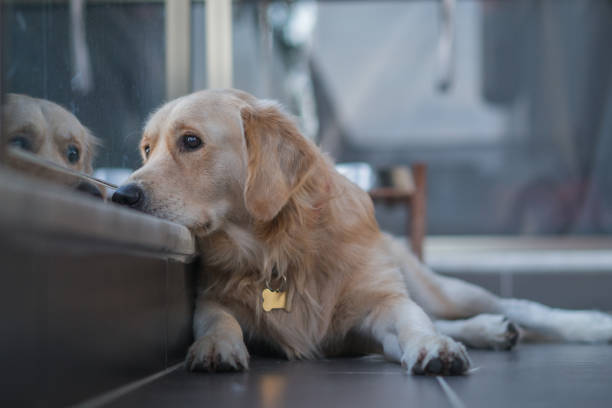 There are so many wasted spaces in a home.  Why not utilize one of them for a dog cubby?  Building a bedding area beneath the stairs makes use of space that would otherwise be wasted. This is a great solution for homes with smaller footprints.                              By Spacecrafting/Architectural Photography
Catios and other enclosures are fantastic for summer here in Oregon.  But what about the cold, wet days? Having an indoor play center is a fabulous way to enrich your cat or ferret or bird's life. Typical book shelves can do the trick or you can invest in something a bit more extensive, such as the below. 
By Praktic Ideas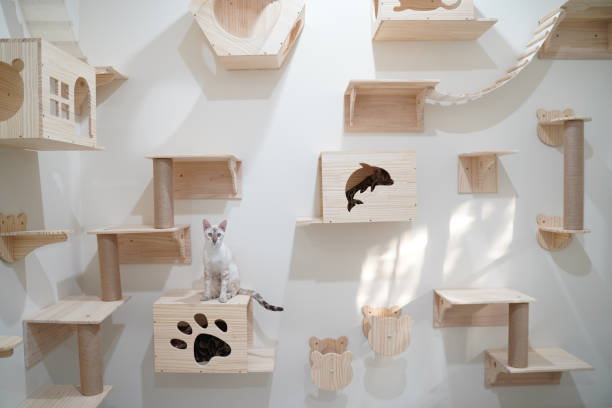 Finally, a pet-friendly mudroom that features such items as a floor-level shower or grooming station. I love that this mudroom/laundry room has plenty of usable counter and storage, making it user friendly for all. For my Great Dane, we made an outdoor spigot with a mixer to keep him outside while giving him a bath. He was then able to come into the insulated/heated garage and dry. It wasn't as luxurious and the room below, but it did keep the wet-dog smell out of the house.